PU LAW/PU LLB Coaching in Chandigarh
PU LAW/PU LLB Coaching in Chandigarh from Gurukul Career Group. Law as a career is in great demand in these days not only in India but all over the world. It is profession that is most lucrative and to become Lawyer one must join prestigious university or college for 5yr LLB and 3 yr LLB course. Panjab University is one of the top university that offers Law Course and to get admission in this university PU conducts entrance exam for Admission for which Gurukul Career Group is Best PU LAW Coaching in Chandigarh. We are 100% Assured for Your Success and it is the only PU LAW/PU LLB Coaching in Chandigarh that gives coaching specifically to PU LLB aspirants because PU LLB Syllabus is almost differ from other Law exam like CLAT, KU LAW, DU LAW.
Lawyers are held in high esteem in our society, and there is a hope that when everything else fails, one can still take the trail of system . In our lifestyle in a method or other we may encounter situations where legal advice is required. In such situation we'd like the recommendation of legal professionals who analyze and interpret law properly.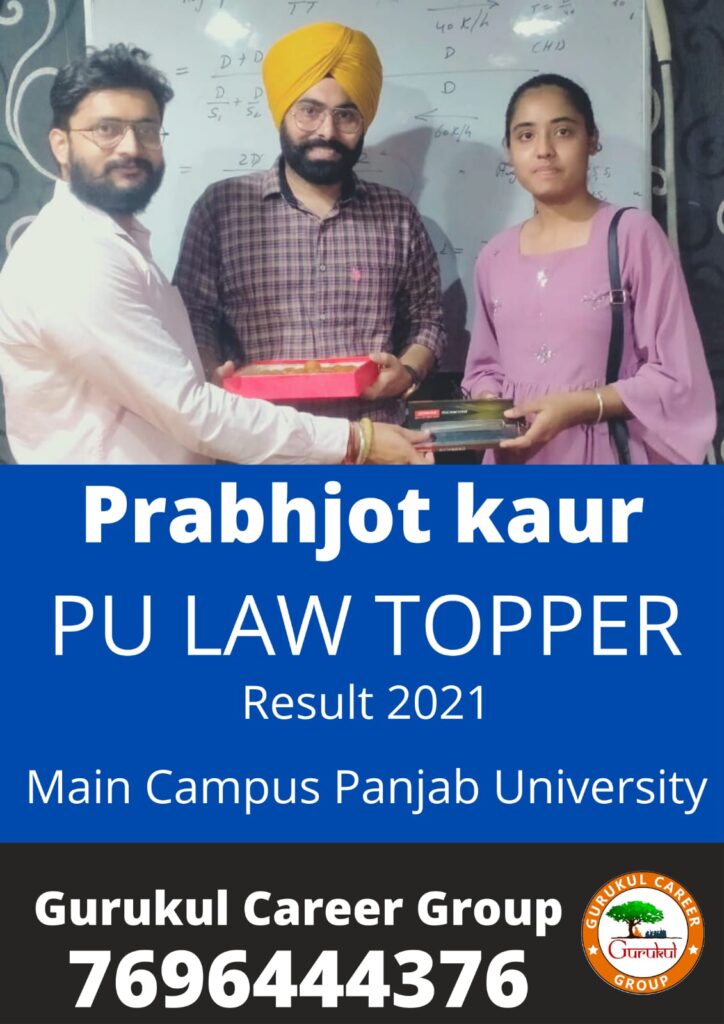 Law as a Profession which needs a lot of patience and logical skills. It takes a lot of diligence and dedication to become a successful lawyer. First generation lawyers particularly face numerous problems in their profession as is true of each other profession. It becomes easier if one trains under a Senior Counsel within the beginning of their career. This is often to not say that newbies cannot make it own their own. Anything is feasible determinedly and in fact , hard work. Great communication skills and a school for critical appraisal and articulation are pre-requisites for lawyers. Therefore, one should analyze these points before choosing law as a career.
Lawyers advice clients about their legal rights and recommend course of action during a meticulous manner. They also counsel clients and pre legal documents, like wills and contracts and conduct negotiations on legal matters, and should represent clients in court and tribunal proceedings. Academic excellence from highly reputed LLB university and Professional competency acquired through experience and practice with lawyers is that the main benchmark of success.
About PU LLB Entrance Exam 2021
Every year Panjab University releases notification for admission of students for Law Course for which it conducts PU LLB 5 Yr entrance for students after 10+2 and PU LLB 3 Yr for students after Graduation. To Crack one needs PU LLB Coaching and Gurukul Career Group is one of the Best PU LAW Coaching in Chandigarh that gives you 100 % Result and Success. PU LLB exam is held in Offline mode to fill around 450 posts for Panjab university main Campus and Regional campuses.
PU LLB 5 Year Eligibility Criteria:
Any candidate who has already passed or appearing in March 2020in the 10+2 Examination of the Central Board of Secondary Education, New Delhi or its equivalent Examination conducted by a recognized Board/University/Council shall be eligible to appear in the Entrance Test and to qualify this test Gurukul Career Group offers Best Coaching For PU LLB Exam
HOW TO CRACK PU LAW EXAM 2021 | PREVIOUS YEARS EXAM ANALYSIS | PU LLB 2021 | Strategy to Pu Law Exam
ENTRANCE TEST SCHEME
PAPER: LEGAL AND GENERAL AWARENESS
| | | | | |
| --- | --- | --- | --- | --- |
| Number of Questions | Marks allotted to each Question | Marks deducted for each wrong answer | Total Marks for the paper | Duration of the Paper |
| 100 | 1 | 1/4 | 100 | 90 mins |
Important Note: There shall be negative marking for wrong answers and for every wrong answer, ¼ mark shall be deducted.
| | |
| --- | --- |
| Total 100 Questions | Subjects |
| 60 Questions | General Knowledge and Current Affairs |
| 20 Questions | Aptitude of Law |
| 10 Questions | Mental Ability |
| 10 Questions | English |
Exam is conducted in three languages Punjabi Hindi and English.
PRELIMINARY MERIT LIST
Fatter entrance exam result will be declared after 20-25 days. First merit list will be published by university based on entrance exam only. Only those candidates will be qualified who had scored minimum 15 % marks in PU LAW Entrance Exam.
Final Merit List Procedure:
BA LLB (Hons) 5 Years

Integrated Course

Entrance Test : 50%

+

Qualifying Examination(+2): 50% + other admissible weightage

B.com.LLB (Hons) 5 Years

Integrated Course

Entrance test : 50%

+

Qualifying Examination(+2): 50% + with weightage for Commerce Subjects
Why Gurukul Career Group is Best PU LAW Coaching in Chandigarh?
Only Academy that gives you PU LAW Batch rather than Combined Batch.
Classes By Punjab Haryana High Court Senior Advocates.
Our Strong determination for your Success which makes us Top PU LAW Coaching Institute in Chandigarh.
Updated Study Material and comprehensive Study material with latest syllabus.
Daily and weekly test series that proved fruitful for success of thousands of students.
Facility of weekend batches and late classes to focus attention on weak students.
Competitive Environment that Makes us Result Oriented LAW Coaching institute.
Hostel and PG Facility for outsider students.